Wilmington Haunted Hollow Ride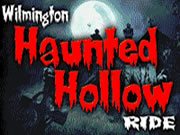 1261 W Dalton Rd
Wilmington, OH
Changes for 2016: First, we have added a brand new attraction, "Terror In The Corn" is a terror-fying walk through a field of tall corn sure to send shivers up your spine and is the 4th Attraction in this years Terror-Fest at the Hollow! Next, Slaughter Hotel has undergone a huge renovation complete with a new floor for you to "explore" !
The Ride
Each and every fall the fields of Clinton County come alive with screams of horror as Fire Breathing Semi's chase unsuspecting victims on a Haunted Bus Ride through a forest filled with monsters, madness, and mayhem. Victims begin their journey through a fog filled tunnel where insanity innocently awaits to claim even the most unlikeliest of victims. It could even be YOU! As your ride continues through the Hollow, be sure to keep a sharp and watchful eye out as you travel through the old and abandoned Rattlesnake Mine. Strange things happen in there. As you continue your travels be forewarned that evil will be certain to try to claim your soul at each and every turn through the Hollow. Most of all you MUST try to stay clear of Farmer Dave. He is always always looking for new "things" to reap and to "sow". So, come along, take a ride if you dare...what have you got to lose. They're just organs, and people donate them all the time.
Terror In The Corn
The 4th Attraction in this years Haunted Hollow "Terror-Fest" is "Terror In The Corn".
As the name implies, this Haunted Corn Maze is a terror-fying walk through a
field of tall corn where evil never sleeps. Shhhh..... What's that your hearing? What IS that rustling around in the corn? Could it be the body snatchers out lurking around in the dark waiting to snatch YOU up when you least expect it, OR is it "The Harvester" the serial killer that stalks the corn field, always out hunting, searching for his next victims. The victims he preys upon, never able to quench his insatiable appetite for human flesh, and for the harvesting of their body parts What ever it is, you CAN run, you CAN hide, but it WILL find you. Rest assured your terrifying journey will begin when you take that first step into "Terror In The Corn"....
Slaughter Hotel
While searching for the key to room #1313, mysterious sounds of muffled moans and screams were heard coming from the elevator shaft, after a relentless search of the 13th floor, the "Death Tunnel" was discovered. Everyone fled the Hotel, completely terrified, and now it's up to you to find out the secrets of the "Death Tunnel". Hope you enjoy your stay!
Nightmare Penitentiary - A Prison for the Criminally Insane
Nightmare was originally built on the property that was once owned by Samuel Slaughter. Built to keep the so called uninvited, over night "guests" that had dared to take refuge in his hotel, it was used to confine these now "forced to stay" guests. These imprisoned guests were used against their will as "patients" for his continuous experiments in "electro shock therapy". Having been kept imprisoned, totally isolated in one place for so long, and used mercilessly in his experiments, these now mentally deranged "patients" had simply gone completely mad, and were left to die alone. It was fitting that the death of Samuel Slaughter should be an "electrocution" by a so called "freak of nature". The prison was eventually seized by the federal government and over the years became a notorious place to deposit the worst of the nations criminally insane. Once inside Nightmare Penitentiary you will find out exactly what happens when these now mentally disturbed & deranged criminals, haunted by the souls of the undead left there to die years before by Samuel Slaughter, are kept isolated & imprisoned in a dark place for way too long, and terror erupts. As they try to make their escape, you will find yourself coming face to face with these "criminally insane" prisoners and all of "your" worst nightmares will become frightful reality. So, be forewarned, even if you manage to make it out of the "Penitentiary" alive, will you really be free?....Or, is it just the beginning of a new terror?..because once outside, your very own "NIGHTMARE" with insanity continues...Ha!...Ha!...Ha!...Ha!...
Email Haunt Owner
All photos and videos within this listing are the property of Wilmington Haunted Hollow Ride
From I-71 North or South. Get off at Exit 50(State Route 68). Follow State Route 68 S. to Wilmington. Turn right to stay on 68/N South Street. Continue to follow 68 straight through downtown Wilmington (4.1 miles)to W. Dalton Road. Dalton is the first street on your right past the "Highway Garage". Follow around curve to the "Haunted Hollow" @ 1261 W Dalton Road. From I-75 North or South follow 75 to U.S. 35 East. Take 35 East towards Xenia. Then take Home Ave./Wilmington/US68N. South St. Continue to follow 68 through downtown Wilmington (4.1 miles) to W. Dalton Road. Dalton is first street on your right past the "Highway Garage". Follow around the curve to the left to the "Haunted Hollow" @ 1261 W. Dalton Road.
wilmington overall

I thought the bus ride was excellent, however after that it was kinda down hill for me very very disappointed in the corn maze as all it was, was a few actors jumping out, there were no set up props and it was dark so really even when the actors jumped out (which was far and few inbetween) you really couldnt see what they were. you went for long periods of nothing. very lame. The houses were very unsafe to me with very irregular walking and very steep downhill ramps and one didnt even have a rail to hold on to. The actors in the houses were good though, but for me interacting with them outside in the light before dark kind of just made me thing Oh that one was outside and several just had red paint on their faces and arms and regular clothes. We did the vip pass and for $37 for all, in my opinion wasent worth it. I also might ad that one person in our group of 8 wore glasses and one of the monsters that was interacting with the customers outside kept referring to her as 4 eyes, we thought that was unnecessary.

| | |
| --- | --- |
| Scare Factor: | |
| Fun Factor: | |
| Haunt Value: | |

Posted 10/3/16

2 out of 3 found this review helpful

Fantastic

Each haunt was very unique in its own way! Great scares for a great price! Bringing kids is great for the bus ride but take caution with the other three atractions. Overall, fantastic.

| | |
| --- | --- |
| Scare Factor: | |
| Fun Factor: | |
| Haunt Value: | |

Posted 10/17/15

4 out of 4 found this review helpful

Awesome Attraction

Well worth the money!!!! Highly recommend! !!!!

Posted 10/19/14

8 out of 8 found this review helpful

Awesome

Awesome attractions for the money

Posted 9/25/14

6 out of 7 found this review helpful
All information on this page was submitted to Ohio Haunted Houses and was believed to be accurate at the time it was posted. Please report any inaccuracies
here
.