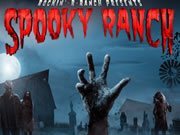 19066 East River Rd
Columbia Station, OH
Spooky Ranch- Cleveland's Premier Haunted Event! Brand NEW Haunted Houses for 2016. Blood Slingers Saloon and NEW Monster Visions in 3-D.
Nationally ranked as one of the top haunts in the country. Spooky Ranch at the Rockin'-R-Ranch, celebrating over 25 years. You will scream, laugh, and be amazed…leaving you absolutely entertained! It began over 25 years ago with The "Famous Haunted Hayride", taking customers on a ride through the Forest of Fear where you experienced terror and suspense at every turn. You cannot escape the monsters, ghouls and danger lurking in the foggy mist. Hollywood high-tech scenes and sets with live actors await you. The "Famous Haunted Hayride" combines scary with humor and surprises. The use of pyrotechnics and larger than life 30- foot tall animated creatures will astound you. Experience the Famous Haunted Hayride with gigantic sets, detailed facades and the most up-to-date special effects possible. The "Famous Haunted Hayride" is the best and most technically advanced haunted hayride in the state of Ohio.
The five awesome attractions are The "Famous Haunted Hayride", The Haunted Barn, New Monster Visions in 3-D, Extreme Nightmares Haunted House and the New Blood Slingers Saloon. All five of these attractions are professional, Hollywood type experiences that will have you coming back and screaming for more year after year. The Haunted Barn has the audience right where they want them, captive, no where to run. It is awesome. When the exit barn door opens, customers are clapping and screaming their approval.
Extreme Nightmares Haunted House is Cleveland's most extreme Haunted House, taking the ordinary Haunted House to the next level. This is our one Haunted House that features extreme gore, blood, guts, frightening scares and in your face acting. Experience extremely detailed, high-tech, Hollywood make-up and acting. Actors have professional speaking parts with a theme to the house. This is not the ordinary boo's and black walls of other haunts. Extreme Nightmares Haunted House is a theatrical production that will linger in your mind and cause you sleepless nights.
Spooky Ranch at the Rockin-R-Ranch hosts 5 dynamic attractions that you will find no where else in the world. Not your ordinary boring hayride or haunted houses.
We are committed to deliver screams to all generations with are different levels of attractions. Experience in -your -face style acting, thrills and suspense at Spooky Ranch, Cleveland's Premiere Haunted Event.
*Spooky Ranch was ranked Number 25 out of all Haunted Houses in America for 2016!*
Email Haunt Owner
All photos and videos within this listing are the property of Spooky Ranch
*If your using your GPS, enter "19066 East River Road, Columbia Station, OH 44028" (State Route 252 is the same road as East River Road). 10 Minutes from Strongsville Mall.
Awsome place great for The whole family $$$$

I have been to spooky ranch a handful of times and every time it gets better and better with new scenes and attractions each time. My Kids love the haunted hayride and crazy clowns in 3D. Extreme nightmares is amazing the monsters don't just come out and scream at you they actually play a part to make you deal like you are in another de mention. Thank you for providing a man awsome place for all ages.

| | |
| --- | --- |
| Scare Factor: | |
| Fun Factor: | |
| Haunt Value: | |

Posted 9/18/16

best haunted house

love this haunted house

| | |
| --- | --- |
| Scare Factor: | |
| Fun Factor: | |
| Haunt Value: | |

Posted 9/18/16

Best Attraction I've been to

Spooky Ranch is the best Haunted house that I've had the pleasure to visit. I Love the hayride and the houses. The actors were great at giving me a good scare. I can't wait to return next year to see what happens. It's a great value for the price of admission.

| | |
| --- | --- |
| Scare Factor: | |
| Fun Factor: | |
| Haunt Value: | |

Posted 11/3/15

Worth the trip from Pittsburgh PA

This is the second Halloween event we have attended in Ohio in the past 2 years and this was the best. The hayride is awesome and the haunted houses are great. Special thank you to Darlene of Spooky Ranch for directions and an additional discount on the tickets.

Posted 10/31/14

0 out of 1 found this review helpful

Had a great time

Spooky ranch was well worth our 1hr 15min drive. The hayride was really good with great props. The haunted house scared us all. We cant wait to come back next year.

Posted 10/26/14

1 out of 2 found this review helpful

Wagon Loads of Fun

Prepare to have a load of fun but dont expect to walk away from the cracy clown haunted house laughing because the clowns come to life. We just had a great time and we can't wait to visit again.

Posted 10/17/14

1 out of 2 found this review helpful

best haunted hayride

highly recommend, enjoyed it so much.

Posted 10/16/13

0 out of 1 found this review helpful

Great value

this is a great value for the entire experience form the haunted hayride to the haunted houses. Well worth the mo0ney and our family really had a wonderful time. We will go back again.

Posted 10/28/12

0 out of 1 found this review helpful

I see why this place is nationally rated in the country

Its scary, awesome and my favorite haunted house ever

Posted 10/19/12

0 out of 1 found this review helpful

awesomeeee

Hayride was very good! Really creative scenes.

Posted 10/13/12

Best Haunted Hayride

Best Haunted Hayride in the world! Lots of fun, lots of scares and surprises. Incredible!

Posted 10/7/12

fun

this splace is so much fun. my friends and i love this place. its really scary and cool.

Posted 10/4/12

extreme nightmares is extreme

they're extreme nightmares haunted house made my friend pee her pants and i screamed thye entire way. i probbaly wont go in in next time because its too scary and the haunted hayride is so fun.

Posted 10/3/12

more for kids

Reading the reviews online I assumed this would be a really scary haunted house, I was sadly disappointed. The hayride was boring and the actors threw hay that everyone had stepped on and been sitting on from the trailor all over us even though we asked them not to. Yes we became a little spooked but I wasn't running through or out of the houses like I expected

Posted 10/1/12

3 out of 3 found this review helpful

Amazing Haunted House

Best time ever at a haunted house...Spooky Ranch is scary and entertaining. Well worth the monet to get 5 attractions.

Posted 9/24/12

Spooky Ranch is the best Haunted House

Loved, loved this place! THe haunted hayride was great, there's nothing else like it. I really enjoyed the haunted houses, too. The extreme purple house scared the heck out of me. Great time and had a blast!!!!

Posted 10/29/11

THEY HAVE IT ALL!

Spooky Ranch goes above and beyond the extreme scare!

Posted 8/29/11

1 out of 1 found this review helpful
All information on this page was submitted to Ohio Haunted Houses and was believed to be accurate at the time it was posted. Please report any inaccuracies
here
.