Deliver Scares this Halloween Season at a Local Ohio Haunted Attraction!
Home » Blog » OhioHauntedHouses.com News and Updates, Ohio Haunt News
July 19, 2017 By Chelsea T.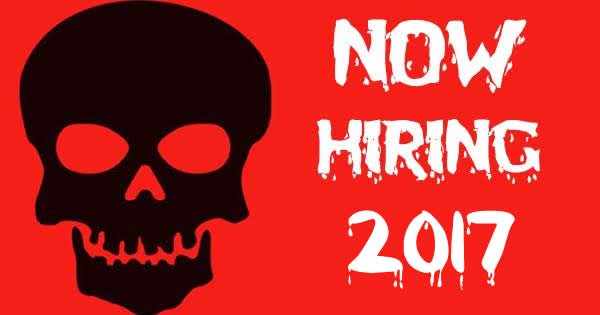 As we enjoy the Summer time, the Halloween Season is creeping up on us. Tons of Haunted Attractions all across Ohio are preparing for the Haunting Season, and have been for quite some time now.

To get things ready to scare Ohio locals this year, Haunted Attractions are in the hiring process and looking to find scare actors or other employees to help the haunt run smoothly all season long. Take a peek at the list below to find a local haunt to work at during the 2017 Halloween Season!
Carnival of Horrors
1145 West Steels Corners Rd., Cuyahoga Falls, OH
330-644-4473
Escape From Blood Prison at The Ohio State Reformatory
100 Reformatory Rd., Mansfield, OH 44905
419-522-2644
Audition Date: Saturday, August 19th
Fear Forest Haunted House & Hayride
6780 Tod Ave. SW, Lordstown, OH
330-824-3141 | fear@fearforest.com
Fortress of Fear ScreamPark
10268 Hewins Rd., Garrettsville, OH
330-322-7853
Haunted Hoorah
3 East High St., Ashley, OH
740-413-4077
Hauntville
1579 West River Rd., North, Elyria, OH
440-655-0016
King Farrar Field of a Thousand Corpses
45 Farrar Rd., Oak Hill, OH
740-288-6927
Land of Illusion Haunted Scream Park
8762 Thomas Rd., Middletown, OH
513-423-9960
Spooky Ranch
19066 East River Rd., Columbia Station, OH
440-236-5454
Wells Township Haunted House
101 Market Street, Brilliant, OH
304-723-6408
Is your Haunted Attraction hiring? Email Chelsea@HauntedHouseMedia.com to get your Haunt added to the list & be sure to check back as we'll be updating the list regularly!