Don't Miss Out - Cleveland Haunt Club Presents Haunted Garage Sale on August 20th
Home » Blog » Ohio's Best Weekend Events, Ohio Haunt News
August 11, 2016 By Chelsea T.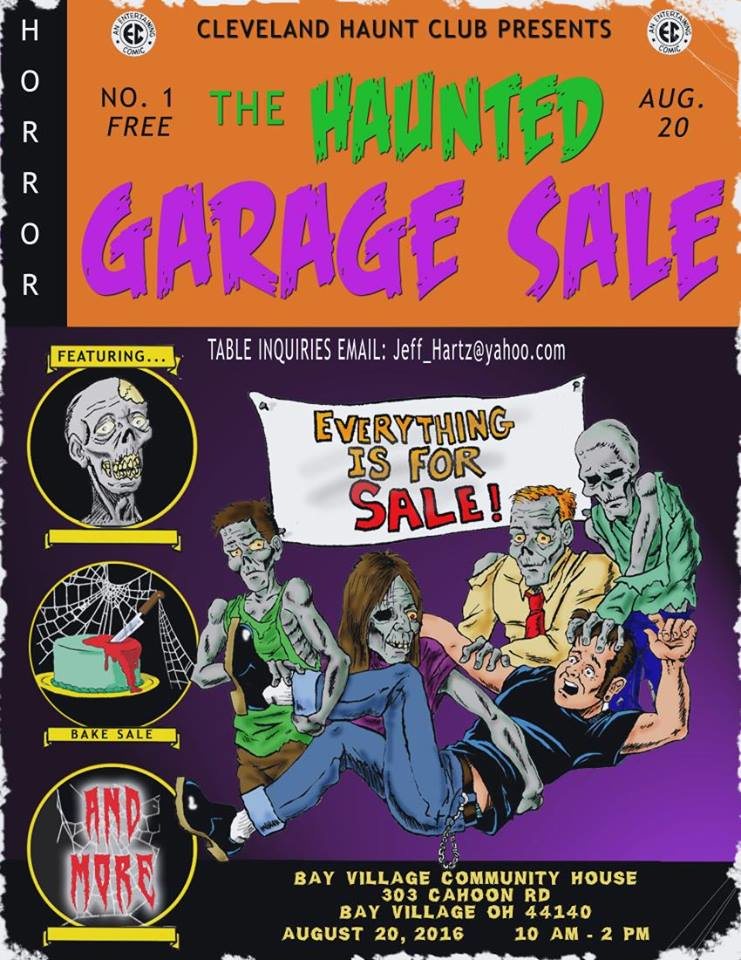 Cleveland Haunt Club Presents The Haunted Garage Sale
Photo by:
Haunted Garage Sale
Although the Halloween Season hasn't arrived yet, it is getting creepingly close! Get into the spooky spirit during the Summertime with The Cleveland Haunt Club's Haunted Garage Sale! The event will be hosted by Zombie-works.com and will take place on Saturday, August 20th from 10 AM-2 PM at the Bay Village Community House in Bay Village, Ohio. Parking for the event is free.

Whether you're searching for some haunted goodies or would like to sell some of your own, The Haunted Garage Sale is the perfect opportunity! Items will include anything from unwanted Halloween decorations, haunted props, equipment, costumes, along with horror items.

Some of the vendors presented at the Haunted Garage Sale presented by the Cleveland Haunt Club, will be Zombie-works.com, Wood Cremations and various talented Pro and Home Haunters sharing their wares. Northeast Ohio Haunts Spooky Ranch, Hauntville and Bloodview Hts. will be present as well as members of the renowned acting troupe Legion of Terror.
Come see the Hearses and Clown Limo from Spooky Ranch. It is free to get in and vendor tables are only $20. There will be a Bake Sale to benefit the Cleveland Haunt Club as well as food trucks and Haunting films playing in the event throughout. It is in a beautiful Century plus old building on the shores of Lake Erie with a beautifully Haunting view!
For more information or to purchase a table at the sale, please email Jeff Hartz at jeff_hartz@yahoo.com