Get the Inside Scoop on Hagan's House of Horrors 2016 Halloween Season!
Home » Blog » Ohio Haunts: An In Depth Look
July 10, 2016 By Haunt News & Press Releases

The cast and crew of Hagan's House of Horrors, 2015 edition
OhioHauntedHouses.com recently sat down with Michelle Hagans of Hagan's House of Horrors, to discuss what's new at Hagan's House of Horrors for the 2016 Halloween Season! Occupied in an all new building dedicated to their haunt, Hagan's House of Horrors will take place in the village of Bladensburg on New Guilford Road. This year, thrill-seeking visitors will have the opportunity to enjoy a variety of scares all under one roof!
In addition to the gruesomely-good fun, Hagan's House of Horrors will also feature a "Half Price/Half Scare" night on Thursday, October 27th. This event is one for the family, where children can enjoy the Halloween Season with fewer scares and some trick-or-treating! Although it will be dark, characters will not be scaring, but will be assuring the safety of the kiddies. Parental discretion is still advised for this special one-night event, and it is best for children 6 and over.
What's new at Hagan's House of Horrors for 2016? Do you have any new rides, attractions, or special features that Haunt Seekers should know about?
Hagan's House of Horrors is all new for 2016. After going from a home haunt in 2014 to a fully commercial one in 2015 that we put on in leased space in a nearby town, we've built our own building to our most desired specifications. This year and going forward into the future, we have all the power that we need to do the kinds of things we really want to do; something that was difficult in the building we used last year that was originally designed as a bull riding arena.
What are you most excited about for the 2016 Halloween Season?
We're very excited about our new haunt home. The possibilities for future expansion are nearly endless. If you came through in 2015, come back in 2016 and see us in our new space. You won't believe the difference!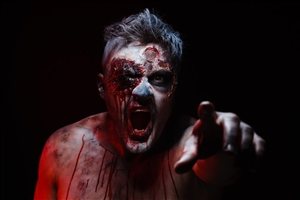 What differentiates Hagan's House of Horrors from other local haunts in Ohio?
Hagan's House of Horrors is family owned and operated. We like to say we're 'community operated'. The actors and support staff are family and friends/neighbors. We might have 40-50 people on the floor on any given night and most of them live within a mile or two of each other and have known each other for years. It makes for some great working relationships. Also, on multiple haunt nights, part of your admission price benefits local needs like our local volunteer fire department and local events in need of monetary support.
How long has Hagan's House of Horrors been in business? Can you tell us a bit more about Hagan's House of Horrors's history?
Hagan's House of Horrors became a commercially operated haunt beginning with the 2015 Halloween season. Prior to that, two of the owners ran a home haunt in 2014 and the third had done home haunts for several years. All three owners and many of the family members involved have years of experience with home haunts, constructing haunted trails for special events and working in commercial haunts.
What's your favorite experience since opening Hagan's House of Horrors?
We love it when people have a good time...when they admit they peed a little, closed their eyes, tried to run, etc. That's when we know we've done our job of creating an entertaining, heart pounding scare really well. It's always gratifying when the just have to stop us and tell us how scared they were and why they'll never come back again...but then they do and they bring friends.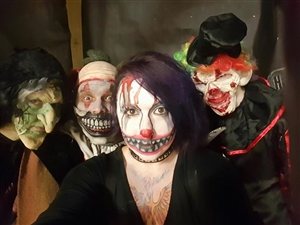 Can Hagan's House of Horrors accommodate large groups? How many people can experience Hagan's House of Horrors together as a group?
Our all new haunt is small (but not short) and tight. We prefer that people go through in pairs with no more in a group than four people. We'll make exceptions for families with children that they prefer not to have go through without a parent but it's not ideal to have more than four at a time in our haunt. We'll NEVER combine you with other people either.
Does Hagan's House of Horrors offer any special deals, discounts, or coupons?
We have two nights for the 2016 season where you can get money off our already low admission cost for your donations to other causes. On Saturday, October 15th, we're having a Toys for Tots, toy drive. Your donation of a new, unwrapped toy gets you $2.00 off your admission. On Saturday, October 22nd, the donation of a can of food for our food drive for Knox County Interchurch, an agency that benefits multiple pantries in the county, gets you $1.00 off your ticket.