Frighteningly Fun Halloween Crafts for Kids
Home » Blog » Ohio's Local Halloween Fun Guide, Little Ghost & Ghouls Corner , Scary-Good DIY Ideas, Halloween Headlines
October 7, 2015 By Kelly T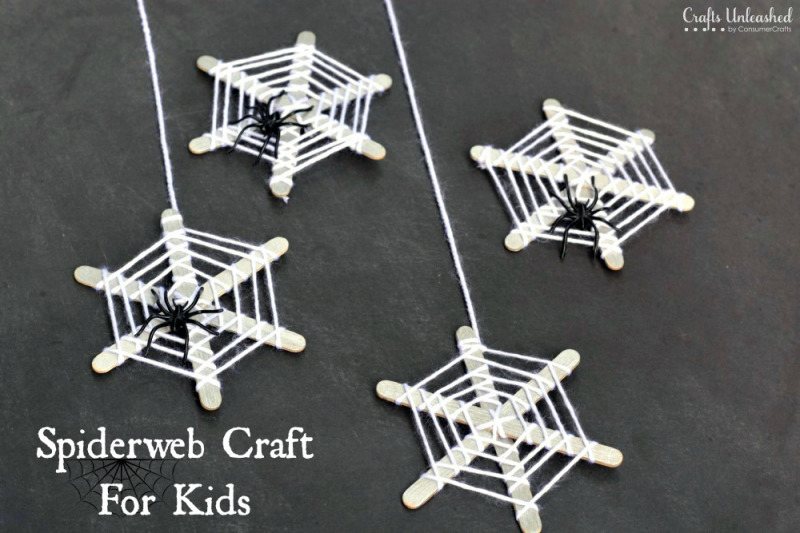 Photo by:
Consumer Crafts via Pinterest
Spend some time with the kids this Halloween season lending them a helping hand with some freakishly fun crafts! From floating ghosts to cute witches, these are a few projects both you and your kids can enjoy and partake in in the name of the Halloween spirit.
Supplies:
Popsicle sticks
White Yarn
Glue
Plastic spider
Directions:
Glue three popsicle sticks together at the middle, so they form the shape of a star. Once dry, begin looping your white yarn around the sticks adhering them with little glue dots. Adorn with spider then voila!
Supplies:
Paper plates
Black & white construction paper
Scissors
Glue
One hole punch
Ribbon
White streamers
Directions:
Cut out a black pairs of eyes and a nose out of construction paper. Then glue those to your paper plate. Next cut out some arms from white construction paper and glue those on. Now, punch a hole in the top of your ghost's head/paper plate. Loop your ribbon through, cut and knot. Lastly, glue on your streamers and let him float!
Supplies:
Pinecones
Black, orange, and yellow foam
Scissors
Glue
Directions:
Construct a small witch's hat out of black foam to sit a top your pinecone. Stick it there with glue. Use the other colored foam to cut our eyes and a beak for your witchy owl. Glue those on, let them dry, and your Halloween owl is display ready!
Supplies:
Puzzles pieces
Orange paint
Green ribbon
Scissors
Paint brush
Glue
Directions:
Begin by painting your puzzle pieces orange. Once the pieces have dried form them into the shape of a pumpkin and glue them in place. Next create a stem with the green ribbon and glue that onto the back so it sticks up on the top of the pumpkin. Happy Halloween!