Find Out What's in Store this Halloween Season at Hudson Haunted House!
Home » Blog » Ohio's Best Weekend Events, Ohio Haunts: An In Depth Look, OhioHauntedHouses.com News and Updates
August 29, 2019 By Haunt News & Press Releases
OhioHauntedHouses.com recently sat down with Alexandra Austin of Hudson Haunted House, to discuss what's new at the haunted attraction for the 2019 Halloween Season!
What's new at Hudson Haunted House for 2019? Do you have any new rides, attractions, or special features that Haunt Seekers should know about?
We have put a new spin on some classic rooms. We have also really created a black out maze this year with some twists and turns you won't expect!
What are you most excited about for the 2019 Halloween Season?
We are most excited about all of the details we put into the haunted house this year, we really wanted to make some of these rooms come to life!
What differentiates Hudson Haunted House from other local haunts in Ohio?
Hudson Haunted House is 100% not for profit! Meaning everyone involved is doing it out of true love for the community and Halloween tradition. We have been open for 47 years, making us one of the best traditions around!
How long has Hudson Haunted House been in business? Can you tell us a bit more about Hudson Haunted House's history?
The Hudson Jaycees started our haunt in 1972 and we have been going strong ever since. We are the longest running haunted house in the state of Ohio. We strive to use our profits to benefit the local community's. For generations, we have been running this haunted house and wouldn't have it any other way. We are one hundred percent volunteer based. Our actors can start in 8th grade making us one of the more diverse haunted attractions in the area.
What's your favorite experience since opening Hudson Haunted House?
Many of us began scare acting in 8th grade for volunteer hours, and soon after we caught the haunted house bug and haven't been able to give it up since! For me personally in the 2018 season, I was having a blast scaring people in the back end of the house, making them want to go back the other way. Sometimes all you need is a good mask and a little effort.
How long is a typical haunt experience at Hudson Haunted House from start to finish?
Our haunted house is small in size but depending on how fast you move could take anywhere from 8-15 minutes.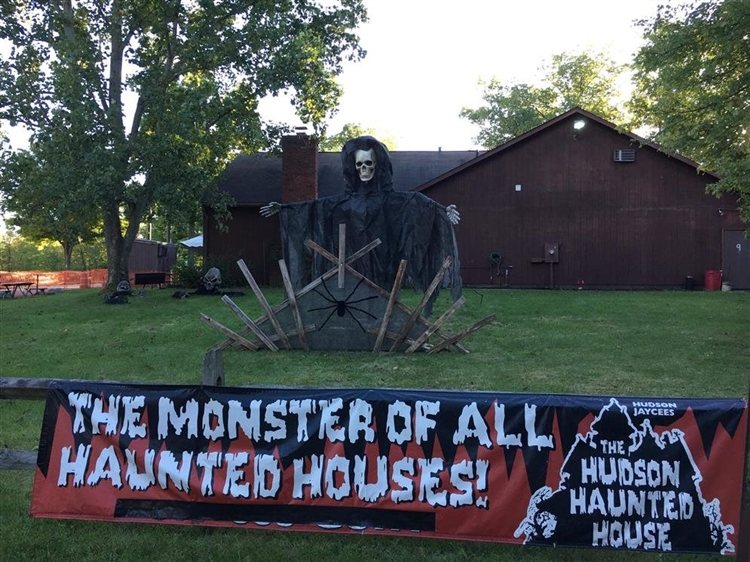 On a scale from 1 to 10, how scary would you say Hudson Haunted House is? Why?
I personally say we are a sound 7, we have some very talented actors who are willing to go the extra mile to get you scared.
Does Hudson Haunted House's property have any real haunted history? Do you have a spooky encounter you'd like to share?
Our building is known for ghostly activity! The Munroe falls paranormal society and Mary Ann Winkowski can confirm it. Most haunted house pull so much energy we are like hot spots for the paranormal. As being on the operations team I was witness to a lot of it. Personally, we had one ghost who liked to turn off flashlights when you needed them most. At one point trapping me in the attic.
What inspired you to open up a haunted attraction? What's your favorite part of the business?
Our Jaycees were inspired to open a haunted house to benefit the community.
How has new technology (i.e. animatronics, special props, etc) helped you to enhance Hudson Haunted House?
New props and animatronics have upped the haunted house game a lot, but we use them sparingly because we prefer the person to person scare.
Can Hudson Haunted House accommodate large groups? How many people can experience Hudson Haunted House together as a group?
We will sometimes break a big group into two, this is to prevent them from ruining the scares for the whole group.
Does Hudson Haunted House offer any special deals, discounts, or coupons?
We have specials and coupons on our website and haunt page!
Anything else you'd like to let us know about Hudson Haunted House?
We would love for you to come out and see us in our 47th year, and support your local community as well!