Halloween Season Haunted House Jobs Here in Ohio
Home » Blog » OhioHauntedHouses.com News and Updates, Ohio Haunt News
August 23, 2016 By Chelsea T.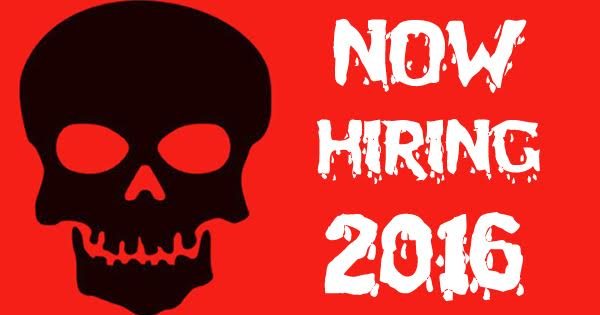 Haunted attractions are an important part of the Halloween Season, giving thrill-seeking visitors the appetite for fright they are hungry for. Behind the scenes there are a number of crew members that each have a part in assuring the season goes smoothly.

Scare actors are of course a major part in any haunted attraction, but to make those actors as horrifying as possible, make up artists and hair artists are needed. Along with these positions, parking lot attendants, cashiers, concessions, camera and photography attendants are also among the popular job openings. Take a look at the list below and find a haunt family to join this Halloween Season!
Carnival of Horrors
1145 West Steels Corners Rd., Cuyahoga Falls, Ohio, 44223
330-644-4473

Fortress of Fear
10268 Hewins Rd., Garrettsville, OH 44231
330-322-7853

Hauntville
1579 W. River Road N. Elyria, OH 44035
440-655-0016
Note: Must be 16 years or older to apply & have 2 forms of valid ID.

Land of Illusion
8762 Thomas Rd., Middletown, OH 45042
513-423-9960

Lewisburg Haunted Cave
4392 Swisher Mill Rd., Lewisburg, OH 45338
Note: Must be 18 years or older & able to stand/walk for 8 hours.

Nightmare in the Wilderness
7665 Lafayette Rd., Lodi, OH 44254
330-948-1476 | nicolekuppe@yahoo.com
Spooky Ranch
19066 E. River Rd., Columbia Station, OH 44028
440-236-5454
Note: Must be 15 years or older to apply, please apply in person.
Hiring dates: Sept. 14th & 15th from 5-7 PM.
The Ohio Gorematory
4300 Kinsman Rd. (Rt. 87), Mesopotamia, Ohio 44439
info@ohiogorematory.com
Note: Casting call hours are Monday-Friday from 3-10 PM

The Wilmington Haunted Hollow Ride
1261 W. Dalton Rd., Wilmington, OH 45177
937-382-6147

Is Your Haunt Hiring for 2016? Let Us Know!