Ohio Man is Honoring Zombie Christmas by Refusing to Take Down Zombie Nativity Scene
Home » Blog » Ohio Haunt News
December 8, 2015 By Chelsea T.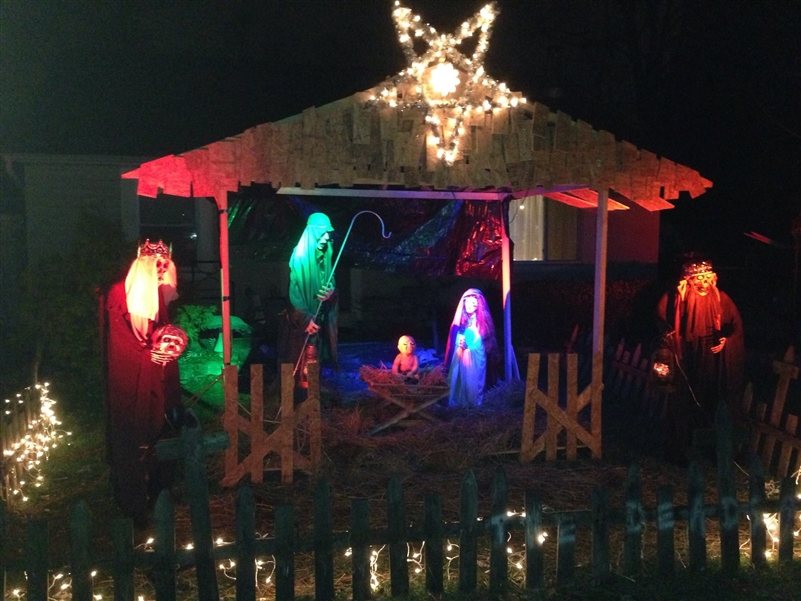 Up close and personal with the Zombie Nativity Scene.
Photo by:
Zombie Nativity Official Facebook Page
Jasen Dixon, an Ohio resident, has been fined $500 after setting up an enormous zombie nativity scene in his front yard. Dixon, who was denied a permit for the set up, has left it even after getting in trouble for it. Angry Baptists and local authorities are quite perturbed with Dixon for not removing the scene and he is still refusing to take it down.
Dixon runs "13 Rooms of Doom," a haunted house that he decided to extend into a Christmas display. Last year for the holiday season, the display featured an un-dead Jesus, Mary and Joseph and after it stirred up some controversy, he was told this year he must have a permit to continue, according to Raw Story.
Dixon is expecting to receive further fines from zoning officials after Friday's first $500 fine. Along with the local officials, the Baptists in and around town have been flyering outside his home.
In an interview with Q13FOX News, Dixon stated, "I think it's the theme. It just rubs people the wrong way and it puts the spotlight on me. That's why they're coming down so hard on me."
The situation proves that Dixon is trying to be a bit humorous, but the manger has not been found to be funny by some people. On the Zombie Nativity Scene's Facebook Page, he said, "We are not Atheist" and after stating he would take the display down, he wrote that he decided to leave it up.

Dixon is currently fundraising in order to cover his fines; as of Tuesday morning, he has raised $1,279.