Brand New Scares Await this Halloween Season at All Hallows' Eve - TERROR TOWN!
Home » Blog » Ohio Haunts: An In Depth Look, OhioHauntedHouses.com News and Updates, Ohio Haunt News
February 27, 2019 By Haunt News & Press Releases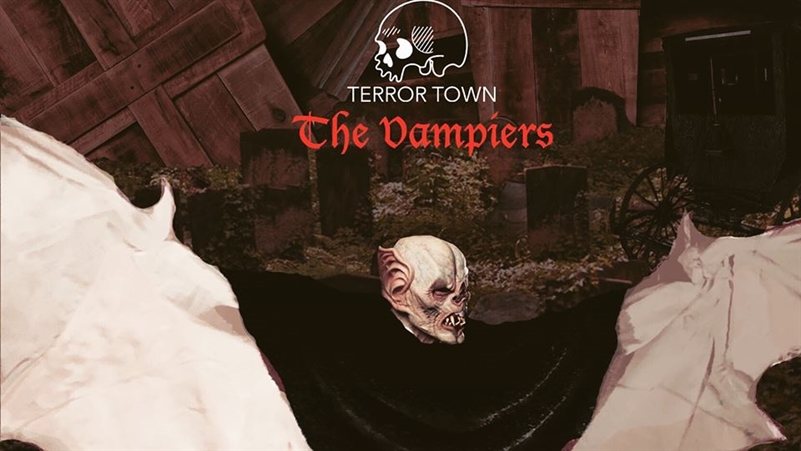 Photo by:
All Hallows' Eve via Facebook
OhioHauntedHouses.com recently sat down with James Gregory of All Hallows' Eve - TERROR TOWN, to discuss what's new at the haunted attraction for the 2019 Halloween Season! Located in Williamsburg, this haunt is presenting all new thrills and chills for this year's spooky season and thrill seekers don't want to miss out on what's in store.
What's new at All Hallows' Eve - TERROR TOWN for 2019? Do you have any new rides, attractions, or special features that Haunt Seekers should know about?
TERROR TOWN is an all new haunted attraction. We feature a haunted trail with extreme realistic detail. The narrative is based around 1800's folklore.

Outside of the haunted trail we have an old western town built to replicate structures from the 1800's. There you'll find an outdoor theater, music, shops selling all sorts of merchandise, amazing food, two saloons that have a full bar, live performances, and a ton of games!

Some weekends we hold special events which you'll need to follow us on social media for more info.
What are you most excited about for the 2019 Halloween Season?
The grand opening, the theatrics, the responses, and to see this long time dream become a reality.
What differentiates All Hallows' Eve - TERROR TOWN from other local haunts in Ohio?
I think we're unique in that we do strive for realism. We have no desire to simply say boo. We believe in utilizing our actors in their environments to their full potential. Beyond that, we have 65 acres and a TON to do. We don't want patrons to sit in line for 3 hours, go through a 30-40 min haunt and go home. It's fall and we should be celebrating!
How long has All Hallows' Eve - TERROR TOWN been in business? Can you tell us a bit more about All Hallows' Eve - TERROR TOWN's history?
We started this journey with a family haunted attraction back in 2005. We decided to start off small and work our way to owning a venue. In 2012 we started building props, and sold them, which led us to the opportunity we hold now. You can purchase those same props at one of our Halloween shops at our venue.
What's your favorite experience since opening All Hallows' Eve - TERROR TOWN?
Since we just opened, my favorite experience has been seeing everyone come together and be so supportive.
How long is a typical haunt experience at All Hallows' Eve - TERROR TOWN from start to finish?
The trail is roughly 30-40 minutes. After the trail or even before, you could spend HOURS with everything there is to do around town.
On a scale from 1 to 10, how scary would you say All Hallows' Eve - TERROR TOWN is? Why?
8 - there's plenty of room for growth and that should always be the case.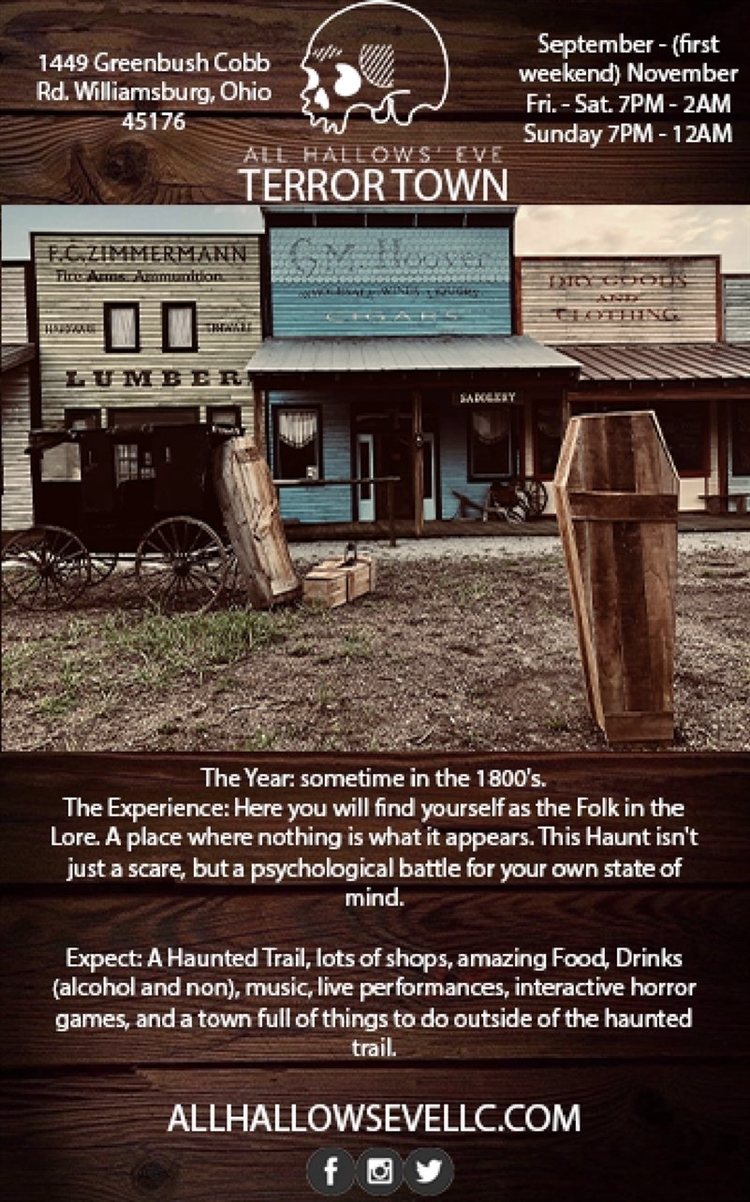 Does All Hallows' Eve - TERROR TOWN's property have any real haunted history? Do you have a spooky encounter you'd like to share?
There was a recent passing of someone which I'm not sure if it's still too early to talk about. Unfortunately, it was a suicide and he left behind a family.
What inspired you to open up a haunted attraction? What's your favorite part of the business?
I have been making haunted houses in my grandmothers basement since I was roughly 10. Yeah, I know, what a weirdo... My friends and I loved doing it. Literally all year round. My grandmother use to read us Scary Stories To Tell In The Dark, then chase around with her teeth out. There's no greater inspiration than that! My favorite part about this business is being able to take a vision and bring it to reality.
How has new technology (i.e. animatronics, special props, etc) helped you to enhance All Hallows' Eve - TERROR TOWN?
Well, this year we're bringing something to the park few people have and so many will appreciate. No spoilers yet...
Can All Hallows' Eve - TERROR TOWN accommodate large groups? How many people can experience All Hallows' Eve - TERROR TOWN together as a group?
That will depend on the size of the crown in the park. We want people to experience in smaller groups as we feel it will enhance the scare factor. With that said we can do whatever necessary.
Does All Hallows' Eve - TERROR TOWN offer any special deals, discounts, or coupons?
We do, but you have to find them. If you're lucky, they will find you!
Anything else you'd like to let us know about All Hallows' Eve - TERROR TOWN?
We appreciate every ones support and we would appreciate your liking and following us on Facebook.