Put Your Shooting Skills to the Test at Zombies on the Lake in Geneva!
Home » Blog » Ohio Haunts: An In Depth Look
October 22, 2018 By Haunt News & Press Releases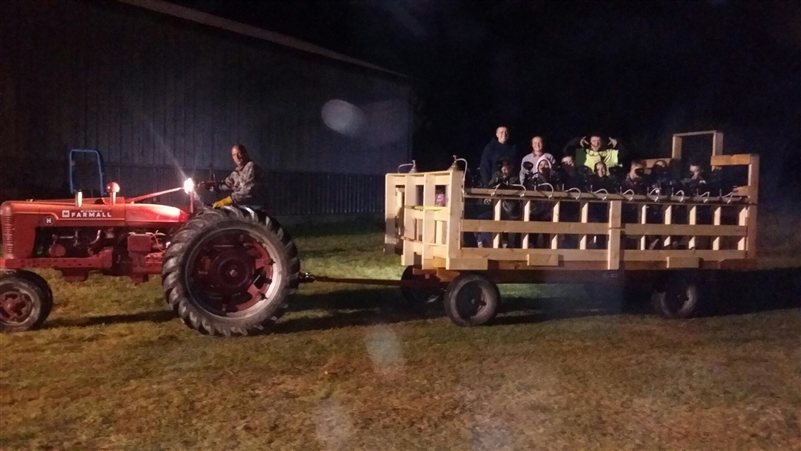 Big Red towing the Zombie Annihilation Vehicle!
OhioHauntedHouses.com recently sat down with Jeff of Zombies on the Lake, to discuss what's new at the attraction for the 2018 Halloween Season!
What's new at Zombies on the Lake for 2018? Do you have any new rides, attractions, or special features that Haunt Seekers should know about?
Each year we try to revise and update our trails and themed sets. We strive to be the best Zombie Shoot in Ohio and always look for ways to improve our attraction. Updated sets and even more live Zombies roaming through the woods for you to shoot.
What are you most excited about for the 2018 Halloween Season?
Our revised trail is much more fun and offers almost nonstop shooting from beginning to end. We also have a new tractor that will offer a smoother ride if your wagon were to be pulled by her. Of course, we also still run "Big Red"; our 1943 Farmall H TRactor. While old, she still runs great and offers a great dose of nostalgia for a great Halloween hayride Zombie Shoot.
What differentiates Zombies on the Lake from other local haunts in Ohio?
We are truly unique among other haunts. The only other haunt that offered a Zombie Paintball Hayride shoot has closed their attraction. We strive to offer a great value, courteous service and efficient service. We are a family friendly haunt that is not too scary for the young ones, but still great fun and a bit scary for the adults. The fun is in the shooting of the Zombies as they roam the woods amid the various sets and attempt to feed on your flesh!!
How long has Zombies on the Lake been in business? Can you tell us a bit more about Zombies on the Lake's history?
We are in the middle of our 3rd year in business. Each year, we have invested in making our haunt better and more attractive without increasing any prices. This year, we have already had several sell-outs.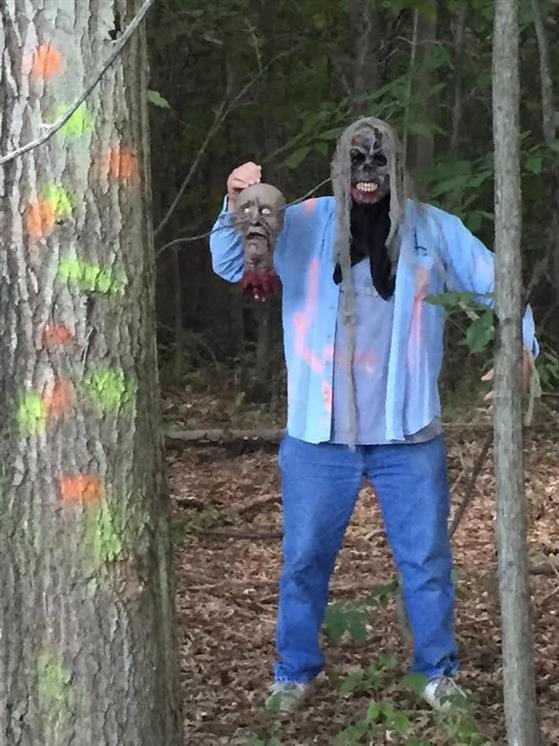 What's your favorite experience since opening Zombies on the Lake?
We love the laughter that we hear as our Zombie Hunters return from their hayride and relate to us how many Zombies they were able to shoot. Everyone of all ages comes back with a smile on their face.
How long is a typical haunt experience at Zombies on the Lake from start to finish?
Start to finish takes about a half hour. We are proud that we receive many compliments that our shoot offers almost nonstop shooting at LIVE zombies.
On a scale from 1 to 10, how scary would you say Zombies on the Lake is? Why?
Maybe a 3. Our event is more geared toward the family and while scary at times, it is not the type of event where you jump out of your skin every few minutes. Maybe a few spots like that. Again, the fun is is shooting the zombies as they roam the woods and attempt to get near the wagon.
Can Zombies on the Lake accommodate large groups? How many people can experience Zombies on the Lake together as a group?
We can accommodate groups almost any size We run wagons that offer seating of either 20 or 16. We also offer private party facilities, such as a canopy, private fire pit and tables, etc. Any group that calls in and pre-schedules for a group of 10 or more and pays for that group in one transaction receives a $2 discount. This is perfect for company parties, children's birthday parties or youth groups such as boy scouts, girls scouts, etc.