Rockin'-R- Ranch Gears Up for the 2016 Halloween Season with Tons of Fun for Everyone!
Home » Blog » Ohio's Local Halloween Fun Guide, Little Ghost & Ghouls Corner , Press Releases, Ohio Haunt News
September 6, 2016 By Haunt News & Press Releases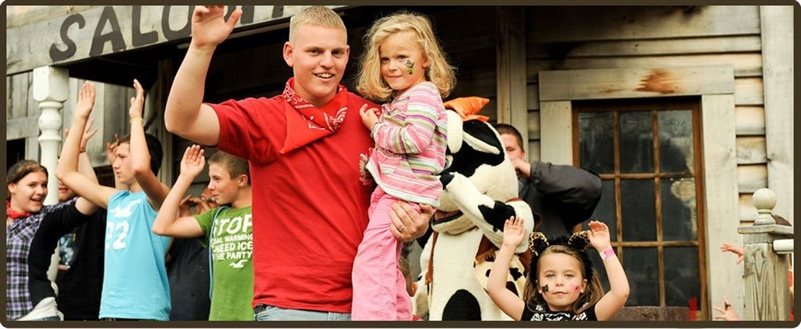 Photo by:
Rockin R Ranch Facebook
Columbia Station, OH - September 6th, 2016 - For over 25 years, the Rockin'-R-Ranch in Columbia Station, Ohio has been entertaining people of all ages. Rockin'-R-Ranch host two distinct events during October, The Old West Pumpkin Fun Fest (daytime event) every Saturday and Sunday from 12:00 noon to 5:00pm and Spooky Ranch is held Thursday, Friday, Saturday and Sunday nights in the month of October.

At the Old West Pumpkin Fun Fest, toddlers adolescents, young families and Grandma's and Grandpa's can't wait to see the fabulous Country Kids' Show performed live on stage featuring costume characters that your child would love. The Live musical show is performed four times a day. This is an interactive show for the kids where they can dance and play instruments. Take as many hayrides as you want on the Pumpkin Patch Hayride trail that takes you into the Pumpkin Patch and pick and paint your own pumpkins. The whole family can walk through the New 3-D House, enjoy the Pumpkin Slide, have fun on the activity area, Explore the Old West Town, Adventure Gem Mining, New Duck Pond, pet the animals at the Petting Farm, get your face painted and much more. Where can you go and ride ponies all day long at no extra charge? There is a farm market, souvenir shop and concession stands for food and drinks. French fries, apple cider, funnel cakes, hot dogs, sausage and cotton candy available.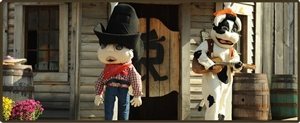 In the evening, the fun turns frightening, entertaining, funny and very high- tech as Spooky Ranch opens at 7:00pm until 9:30pm on Thursdays and Sundays and from 7:00pm to 11:30pm on Fridays and Saturdays. "Spooky Ranch, "Cleveland's Premiere Haunted Event is a Halloween spectacle that shouldn't be missed. Rockin'-R-Ranch takes haunted houses to a new level with Spooky Ranch. We compromise of 5 themed attractions, The Famous Haunted Hayride, The Haunted Barn, the New Blood Slingers Saloon Haunted house, New Monster Visions in 3-D Haunted House and Extreme Nightmares Haunted House.

It began over twenty-five years ago with the "Famous Haunted Hayride." The ride attracts everyone including families, couples and teenagers. We are the only Halloween, Haunted attraction that is family friendly. Most other Haunted events can be objectionable and vulgar. Our event is professional and Hollywood Hi- tech. When we take you through the "Haunted Barn", we have a captive audience on the wagon. The production is an awesome, hi-tech surprise. Customers are clapping and screaming as the tractor exits the Haunted Barn. This is not like other Haunted Houses. We truly cater to the masses and all generations of people with such a wide variety of attractions. At Spooky Ranch, there's something for everyone. We are well known for having the most unique, hi-tech haunted hayride in the state of Ohio. This is just a peak of 2 of our attractions. No reservations necessary, but if you have 20 or more, group rates are available. Rockin'-R-Ranch is the only Halloween Haunted attraction where you can have group parties with private bonfires and picnic areas for schools, churches and companies.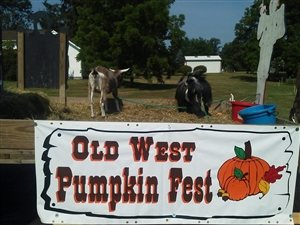 FOX 8 Coupon Special
The Rockin'-R-Ranch is located at 19066 East River Road St. Rt. 252, just 2 miles South of Rt. 82 on Columbia Station, OH 44028. GO to www.spookyranch.com or www.clevelandhayride.com for a discount coupon or clip the article and bring it in for $1.00 off on admission for up to 4 people on either Our Old West Pumpkin Fest or Spooky Ranch. Not valid for private groups. DON'T MISS THIS ONE. This really is a Fall Halloween TREAT for the whole family, both day "The Old West Pumpkin Fest" and night "Spooky Ranch."