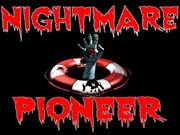 10661 Kile Rd
Chardon, OH
Pioneer Waterland's Fall Fear Fest is a game changer and it changes everything INCLUDING YOU!
Over 100 Ghastly Ghouls, Gruesome Creatures, and in your face Zombies!
Outdoor Scare Zones with Cabin of Carnage, Trail of Terrors, Deads End Haunt and Killaways Freakshow!
Plus Good Food, Better Beer, Music and Arcade!
Do not miss Pioneer Waterland's FALL FEAR FEST…
Saturday, September 22nd & 29th and Every Friday and Saturday through October 27th – 7pm to Midnight!
Go to our website for best admission deals!
ALL YOU FEAR IS AT PIONEER!
Email Haunt Owner
All photos and videos within this listing are the property of Fall Fear Fest
Email Verified

Awesome Experience

There's something magical about Halloween season and Fall Fear Fest got it right! The drive out to Pioneer Waterland set the mood. We started out in the first house, the Cabin of Carnage and were greeted by a posessed nun. They had a lot of great actors in there, and the scenes were great. You can that they converted the outdoor pavilions into the haunts, and they did a great job at it. They looked great. Next We went through a corn maze, then on into the woods. While it was a little muddy, they did put down a lot of wood chips to help keep somewhat of a firm trail.....you can't control the weather in October in Ohio......the woods had some great scares including a clown with an ooga horn and bright flashlight. He was everywhere, or so it seemed. The actors in the woods were awesome. From there we went to a pallet maze, called Dead Ends haunt. The strobes they had were very disorienting, and the fog helped add to the confusion. There were separate entrances and we met in the middle, but we'd get separated inside and confused, all part of the show. The actors in there were outstanding. There weren't many, but they'd move about popping up in different places, and crack jokes in character. We got chased out by a guy with a chainsaw into the next haunt, the Freak Show. There were some very bizarre but talented actors here. From there, we finished out the night in the laser swamp. The room was filled with fog and green lasers giving an appearance of water, quite well done and effective. There was the most horrific but amazing possum character in there. You can tell he made the costume, it was very well made. He had to have put a lot of time into it. Actors emerged from the fog as if coming to the surface from under water and gave quite the scare. The food was good, the scares were great. We went their first year and this season was so much better! I can't wait to see what they do in 2019. Well done!!!!!!

| | |
| --- | --- |
| Scare Factor: | |
| Fun Factor: | |
| Haunt Value: | |

Posted November 2018

1 out of 1 found this review helpful

complete garbage!!!

Listen, my friend won tickets and asked me to go with her. the 20 minute walk back to the actual haunted houses in the rain was boring, not enough actors on the hike back. but then I was so fascinated by a dinosaur by the pool that I had no idea that a clown popped up right in our faces. I was like listen linda, can I go play on the dinosaur? he didn't say anything just disappeared and blew his horn. so we get to house number 1 where there is this crazy lookin tweaked out of her mind nun. she looked like the nun from the movie the nun ya know what I'm sayin linda, uh huh listen. i was having a good time until some hilljack chuck Norris looking mfr called us cattle.. i said , "did you just call me fat!" he shocked us and stamped our hand, we took a good 20 minutes to get through the first house i don't want to give anything away. the actors and scenes were really good. what pissed us off is the walk after the corn maze to the woods. no warning , no flashlights just mud sinking in quick sand.. ya'll need to do something about that okay. listen! the mime at the funhouse was enteraining. i loved the human yo yo trick. uh huh oh my gawd we enjoyed the experience in the laser swamp too! talk about a party. but our shoes got destroyed! $113 shoes ruined.. fix the mud in the woods and maybe we will come back next year.

| | |
| --- | --- |
| Scare Factor: | |
| Fun Factor: | |
| Haunt Value: | |

Posted November 2018

0 out of 1 found this review helpful

exciting and fun evening

I went there last year and it was okay, but this year was set up more like a traditional haunted house, it really reminded me of a haunted hay ride once you were outside the cabin into the corn and headed toward the woods. the actors were fantastic and very scary. My favorite scare was a clown in the woods who got me probably 3 times to the point I fell down in the mud. I'm a big guy and these vicious ghouls had me crying like a school girl. it was so good I had to go through again. the entire cast chased me out of the swamp and out of the park! I hate chainesaws and clowns with bright lights!

| | |
| --- | --- |
| Scare Factor: | |
| Fun Factor: | |
| Haunt Value: | |

Posted November 2018

1 out of 1 found this review helpful

best haunt I've experianced in my life

this is a must not miss attraction for their next season I wish they were open now I really wanted to go again but I was working for spirt Halloween and could not get the time off of work. i thought the ticket price was a little pricy at first but after I jumped not 5 minutes after getting down to the bridge before even entering the first house I got to say I was petrified and shaking with goosebumps by the time I reached the line for the 1st house, the cabin of carnage.. there I was greeted by a excorsist nun who was very convincing,she had me ready to pee my pants.Next we were greeted by i want to say a redneck car salesman. he talked a lot and kept talking about ears of corn trading them for ours and how muddy our nice new pearly white shoes were going to get ruined in the woods. and something about carpets and broken glass and not burning to death he also kept trying to tell me to go to the gift shop to get a new pair of underwear because many people had previously soiled themselves already tonight. at this point I was ready to puke. he also kept scraping his shovel almost as if he were sharpening it to cut off my ear! my friends wound up going through the house I chickened out, someone started playing sponge bob off their phone their staff kept trying to convince me to go through but I wound up meeting my friends in the same line about an hour and 20 minutes later and we left so we weren't late for curfew. on the way home I asked them what took them so long to get back and they said they got lost in the pallet maze that had a bunch of strobe lights in it for 35 minutes I can't wait for next year, I am working all winter and all 8 months of 2019 to build up my courage to go through the entire experience. i give this haunt a 5 out of 5.

| | |
| --- | --- |
| Scare Factor: | |
| Fun Factor: | |
| Haunt Value: | |

Posted November 2018

1 out of 1 found this review helpful

Email Verified

Wonderful time

Really loved this fun trail! The lighting in the woods is really effective at setting the mood ! My group loved the corn maze area and the clown section! Actors were great and very creepy! The beer was great as well ! Whoever they have playing Jason needs to be congratulated on how scary he was! I would not miss this cool haunt this year! 2018

| | |
| --- | --- |
| Scare Factor: | |
| Fun Factor: | |
| Haunt Value: | |

Posted September 2018

Email Verified

Trippy Trail of Terror

Trying to walk their trail with my beer was ridiculous. There were a bazillion fog machines and strobes disorienting me on the trail that took like a half hour to walk. The woods were spooky and the music was fun. The kids enjoyed shooting Zombies, riding Go carts, and getting candy from the Goblins. I almost forgot to mention that they let us picnic there.

Scare Factor:
Fun Factor:
Haunt Value:
Length of Event:
> 1 hour
Time Visited:
After 9PM
Would Recommend:
Yes
Suitable For Kids:
Yes

Posted February 2018

Best Ever Scary Evening

Always looking for special and unusual things to do with my children and I found the Fall Fear Fest at Pioneer Waterland to be lots of fuin. I sat and had a cold one while my kids walked through the haunts. I was entertained by the live band while I sat with a great sausage sandwich. Their 3 scare zones take almost a half hour each to go through... each one different from the next. The kids had a ball! The food prices were reasonable and the price to get in and parking was well worth the money (bought tickets online to save) compared to other Halloween events. Last one I went to in Madison was $20 and over in 15 minuts. I spent the whole evening at Fall Fear Fest.

Scare Factor:
Fun Factor:
Haunt Value:
Length of Event:
> 1 hour
Time Visited:
After 9PM
Would Recommend:
Yes
Suitable For Kids:
Yes

Posted October 2017

1 out of 1 found this review helpful

Buy tickets on line

They charge almost $5. More dollars a ticket if you buy at gate. No where did I see this. Then to do one of the haunts to get the most out of it it will cost another $3. For laser guns and it was short . Not worth the price unless you buy the tickets on line and don't get laser guns. The scarers were good.

| | |
| --- | --- |
| Scare Factor: | |
| Fun Factor: | |
| Haunt Value: | |

Posted October 2017

1 out of 3 found this review helpful

Email Verified

Loved this best attraction around!!!

Great place for a haunting- had the best time- will visit again!!! Best in the area

| | |
| --- | --- |
| Scare Factor: | |
| Fun Factor: | |
| Haunt Value: | |

Posted October 2017

3 out of 3 found this review helpful

Awesome venue!

Great festival village-type area with live music and food vendors! The woods was really scary and the strobes and fog made it surreal. Very cool walking through the old campground. We briefly got lost in the corn maze lol! There's also go karts to ride as this is a huge water park venue (no water attractions in the fall) with lots of space and room to move around. Beautiful and out in the country. It's not that far so don't let the distance fool you.

| | |
| --- | --- |
| Scare Factor: | |
| Fun Factor: | |
| Haunt Value: | |

Posted October 2017

6 out of 6 found this review helpful
All information on this page was submitted to Ohio Haunted Houses and was believed to be accurate at the time it was posted. Please report any inaccuracies
here
.