Lafayette Hotel - Real Marietta Haunted Place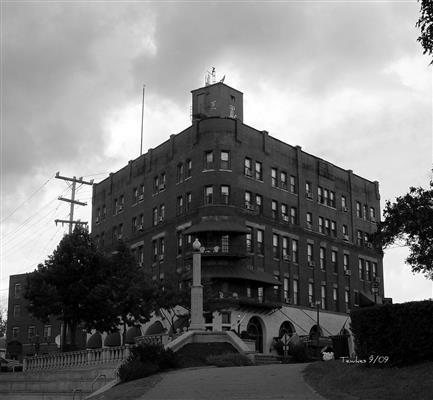 101 Front St.
Marietta, OH
(740) 373-5522
Details
Average Review

Listing Categories

Open To Public

Yes - Open To Public
The strange happenings that occurred at this hotel include footsteps and voices heard in empty hallways and rooms, appliances turning off and on by themselves, doors opening and closing on their own and luggage and furniture being moved around the rooms. Guests and employees of the hotel have both seen misty apparitions in the corridors, along with a ghostly maid wearing a black dress who has been seen on different occasions.
Mouse over photos to see photo credits.
The Lafayette

There are many stories about this hotel from seeing people to noises to strange events. The 3rd floor is supposed to be the most haunted. I have stayed there several times my strangest occurrence was when a whole sheet of wallpaper measuring about 10x10 came down one night while we were asleep and no one heard it. That is a large piece of wallpaper. Another time I was there I walked around a corner to someone looking out a window and they were suddenly gone. I thought it was just something I thought was a person or reflection until i went downstairs and heard another guest at the front desk talking about people seeing things.

Posted 11/1/19

I am scared to come back

I was with my cousins and I didn't believe in this at the time how ever I asked in a serious voice if there was anything one here with me right now on the 3rd floor and I heard really loud bang on a door behind me and I looked back and saw a light flicker twice I asked was that you and the light flickered one last time

Posted 10/7/19

Yes!!

Checked in exhausted room on 4rth floor, had luggage and things strewn around in the room. Left the entertainment center open and fell asleep. Woke up at 6 am, entertainment center was closed, all my stuff was neatly organized. Took a shower, went to comb my hair comb was pulled out of my hand and thrown across the room. Sounds day and night, misty apparitions, voices, crying from downstairs ladies room. Love this place!

Posted 10/1/19

2 out of 2 found this review helpful

Awesome

I've always been one two believe in ghosts and same with my mom. We came out to check out colleges and stayed on the 4th floor. Figured with how old it was it definitely had some spirits. Only in certain areas did I feel anything and I got one picture with orbs in it which deleted from my phone which I don't know how? One of the nights I got a really weird feeling and I started to fall asleep around 1:30ish and had a very light sleep only to be awoken in complete panic for no reason I was not dreaming or anything I was awoken at3:00 I was very tempted to wake my mom but I let her sleep after that I couldn't sleep so I started going on my phone and got a stabbing pain in my back which is highly unusual. I could feel something eerie and so I looked over to see the closet door and bathroom door open which were shut. Super creepy! Will definitely be back

Posted 7/10/19

0 out of 1 found this review helpful

I am a believer

Looking for a hotel in the area I went to book our reservation but then found these stories. We decided to go ahead and stay and we stayed on the 3rd floor. We were in the Hoag addition. Our first night got up around 3:00 am and went to the bathroom. I did not flush since I didn't want to wake up my husband. I got up again around 6 and heard water running. I first thought it was someone taking a shower next door but then realized it must be the toilet. I jiggled it to make it stop running but nothing happened. I went back to bed, woke up my husband in the process of pulling up the covers and then the toilet flushed. First not sure why the toilet was running when I had not flushed it and weird since I didn't flush it and even if I did why it took that long to flush. The front desk said it sounds like Mr. Hoag since he likes to do pranks. I didn't say anything about this to the hotel but the next night I kept the bathroom light on. Around 6 am I was asleep on my side and woke up because it felt like two fingers started poking me on the side of my hip and I heard a humming noise from my phone. I was too afraid to open my eyes and started yelling for my husband. He woke up and poked at me because he thought I was having a nightmare. I said I am not asleep! At that time everything stopped. I tell myself maybe it was a dream but I could really hear and feel everything. I was beginning to think I was crazy! So odd that the toilet was running when I didn't flush it; even if by jiggling it why did it take so long to flush? And maybe I was having a nightmare but I don't remember having dreams where I could really feel and hear something. So just odd. If you stay just watch for weird things...it could be a ghost!

Posted 5/27/19

1 out of 1 found this review helpful

It's Haunted, nice hotel, great restaurant

Traveling alone for work, needed a hotel and booked the first one I found near me online, not knowing anything about it but the name/address. As soon as I step into the hotel I immediately think, "this place seems to have a really strange vibe." I couldn't get over it as I checked in and went to my room, so I called my friend to tell him about the feel of this place, he laughs pretty hard at my situation as he looks up online that the hotel, is in fact, haunted. I'm pretty creeped out so I decide to take NyQuil and sleep with the TV on and the twist-knob-bedside-light twisted off. Fell asleep hard thanks to the NyQuil around 8:45. Around 9:15 I wake up to a loud thud either from above my room or by the hallway door. It jars me awake and I abruptly sit up and hear nothing else. Then I realized the TV was turned off, the bedside table was turned on, and my suitcase, (previously unzipped on its back on the floor) was sitting zipped on its wheels. I was out of the room and in the car within 15 mins. Had I been with a friend or traveling for pleasure not business, I would have loved to have stayed to experience whatever else may have happened.

Posted 3/20/19

2 out of 2 found this review helpful

Anniversary haunting

My boyfriend and I stayed at the Lafayette hotel for our anniversary Oct.2017. I heard it was haunted, but did not put much into it. It was everything I thought it would be. Absolutely gorgeous! Nice bar, beautiful room, and breath taking scenery. First night there we did not hear ,or see anything. The second night we went to Lafayettes Halloween Party in the Ball room. It started to get late . We had drunk alot , and spent enough money. We decided to go back to our room on the second floor. My boyfriend was tired , and fell asleep fast. I myself was scrolling through my phone laying beside him. It was pitch dark in our room. I hear a man's voice clearing his throat on my boyfriend's side of the room. I look in his direction with my light on my phone holding it up. I see no one. I'm thinking okay. That is not Brian's voice. Then a few minutes later again. At this point , I'm a little freaked out! So, I immediately wake Brian up, and tell him. It was hard for me to sleep that night. Lafayette is definitely Haunted! I would stay there again though. I am not one to be scared off easily.

Posted 7/31/18

3 out of 4 found this review helpful

Is there a room in the hoag addition that stays locked?

Anyone with info. Just a strange moment.

Posted 5/14/18

1 out of 1 found this review helpful

Child running in the hall

About 1:30 am, I heard a kid run fast down the hall. I woke up my friend and asked if she heard the running. NO! About 5 minutes later, we heard a child's giggle. Must have been kids right? When I asked the front desk manager if kids had stayed last night, she said, No. No kids until the weekend. She asked us what floor we were on and we said the 3rd floor. Apparently a kid haunts the 3rd floor. The noise was a real as if it was a live person. Great place to visit.

Posted 4/29/18

5 out of 5 found this review helpful

Halloween Pranks

Last Halloween, my fiancè and I decided to book a room at the Lafayette. When we first entered the hallway to the rooms, we both felt as if we were being watched.. I tried to brush it off since we had gone knowing the hotel was haunted. I thought maybe it was our imagination. On the night of the hotel's costume party, I was getting ready in the bathroom while my fiancè was watching tv on the bed. He asked me where the hair brush was to begin getting ready. Since I had not seen it in awhile, he began looking EVERYWHERE. He tore apart the room and even checked the car for the brush without avail. Since I was still getting ready myself, I told him to relax and I would help him when i was done. He sat down on the bed and watch tv againfor a few minutes.. until he looked besides him and saw the hair brush.. shortly after that, I head a loud bang behind me in the shower. I ran out of the bathroom as fast as I could. We also took several pictures that had orbs.. and even with a man's beared face looked out from the bathroom. Crazy!

Posted 4/1/18

4 out of 4 found this review helpful

Being Nice To The Spirits Got Us A Upgrade

We stayed at the hotel last year for our anniversary. We read it was Haunted,so when we got to our room we told the spirits we were there to have fun and we welcome them in our room. Well play started and so did the rain. It came down by the buckets. We didn't care. Until the Lightning strike. It hit somewhere very close knocking out the power to the air conditioning and elevator. Our air conditioning was the only one affected in the whole building. Hotel management upgraded us to the PENTHOUSE. We thanked the Management and the Spirits. The View from the PENTHOUSE is really nice. We thoroughly enjoyed our stay. All I can say is it pays to be nice. THANK YOU Lafayette Hotel

Posted 3/2/18

1 out of 2 found this review helpful

It's haunted AF.

So, we get to our room. It feels weird. My bf thought that's just bc it's old, but it felt strange to me. It was a little dirty. It just felt so outdated and weird. I said it felt "effing haunted." I felt weird after I said it. I decided to call down to the front desk, but the phone shocked me so hard I dropped it. We decided to leave the room. When we were walking downstairs to get our money back, there was someone directly behind us. No one was there, but the footsteps were. Whatever the hell it was, followed us as we left. Once we go out to the car, I googled the hotel and found out it really is haunted. Never again, lol.

Posted 2/1/18

2 out of 3 found this review helpful

Luggage

We stayed there in room 304 the balcony room on friday oct 18th right after we checked in went into room i put my luggage on the bed and turned and hung up my stuff on hangers and went to unzip my luggage and it was already unzipped! It happened within seconds and nobody unzipped it and I could not have carried it from my car to lobby and up elevator being unzipped without everything falling onto floor! Very strange I was tole the third floor was the most haunted after that happened!

Posted 11/1/16

6 out of 6 found this review helpful
Share Your Experience or Comments - Lafayette Hotel
Get More Info
Contact Phone #: (740) 373-5522
Real Haunt Listing Info
Visitors to this page: 3,721
Clicks to Website: 545
Last edit to this listing: 6/15/2016 (1320 days ago)

Disclaimer: Ohio Haunted Houses does not endorse or support trespassing to visit real haunts. Before you visit ANY local real haunt, make sure to acquire the appropriate permits and/or permissions, and be respectful of privately owned properties. Countless Haunt Hunters have been arrested, ticketed, and reprimanded by the authorities for trespassing. To avoid this, be sure to get in touch with the property owners before visiting a haunt, and respect their hours of operation, local regulations, and rules for visiting at all times. Happy haunting!
All information on this page was submitted to Ohio Haunted Houses and was believed to be accurate at the time it was posted. Please report any inaccuracies
here
.